News
Vintage 2018
Tue 15 May 2018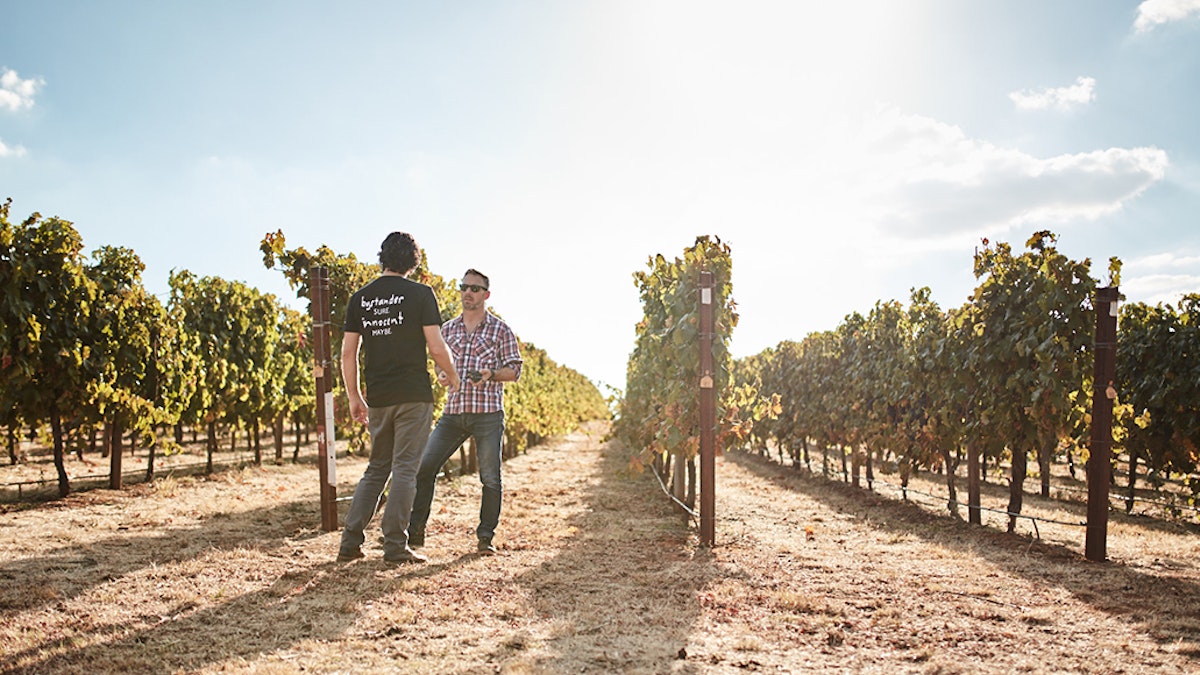 Bystanders – that's a wrap. 
Our 2018 vintage enjoyed near ideal conditions: good rainfall in December, then a dry January through to March. 
The weather proved mild until January then we saw some warm days that speed up the ripening process and led to fruit coming into the winery quickly. 
Our winemaking team worked around the clock to manage the influx of fruit and manage the open top fermenters between themselves as there aren't too many fermenters around the place. 
The IB style of red winemaking utilizes open top fermenters as this facilitates the ability to hand plunge in a traditional, gentle method to produce high quality wine with well-balanced aromatics, flavour, colour and tannin. That's our style and we love it for our smaller batches of Pinot Noir and Syrah. 
Our Prosecco, and Pinot Gris grapes were picked early to ensure a young, crisp, fresh flavour to complement well-balanced acidity. 100% of the Prosecco fruit is from Australia's spiritual home of Italian wines: the King Valley. Long, warm summer days and cool nights mirror the perfect conditions of the varietal's home in Veneto. 
The Pinot Gris grapes were mostly hand-picked and whole bunch pressed, with 70% of the juice fermented cold in stainless steel to hold onto that freshness. The remaining 30% was barrel fermented and the lees will be stirred monthly until winter, so you will stay have to wait a bit, Bystanders. 
Our soon to be Chardonnay and cellar door only Arneis were left on the vine a little longer to develop lovely varietal flavour, fairly-ripe sugar levels and good acidity. We're looking forward to seeing how these varieties shape up after such a good vintage. 
The Pinot Noir was picked at its absolute prime, later than the whites but a little earlier than our bolder Syrah to allow for a lovely balance of elegance and intensity. 
Syrah was left longest to develop richer flavours and more structure. The wines are showing beautiful flavours that will develop and improve over time. 
The reds and Chardonnay will see some time in oak to provide delicious toasty characters for that lush mouth feel. 
The first of the 2018 vintage wines will be released in spring, but you'll have to wait until 2019 for others. 
What's your pick of the bunch?